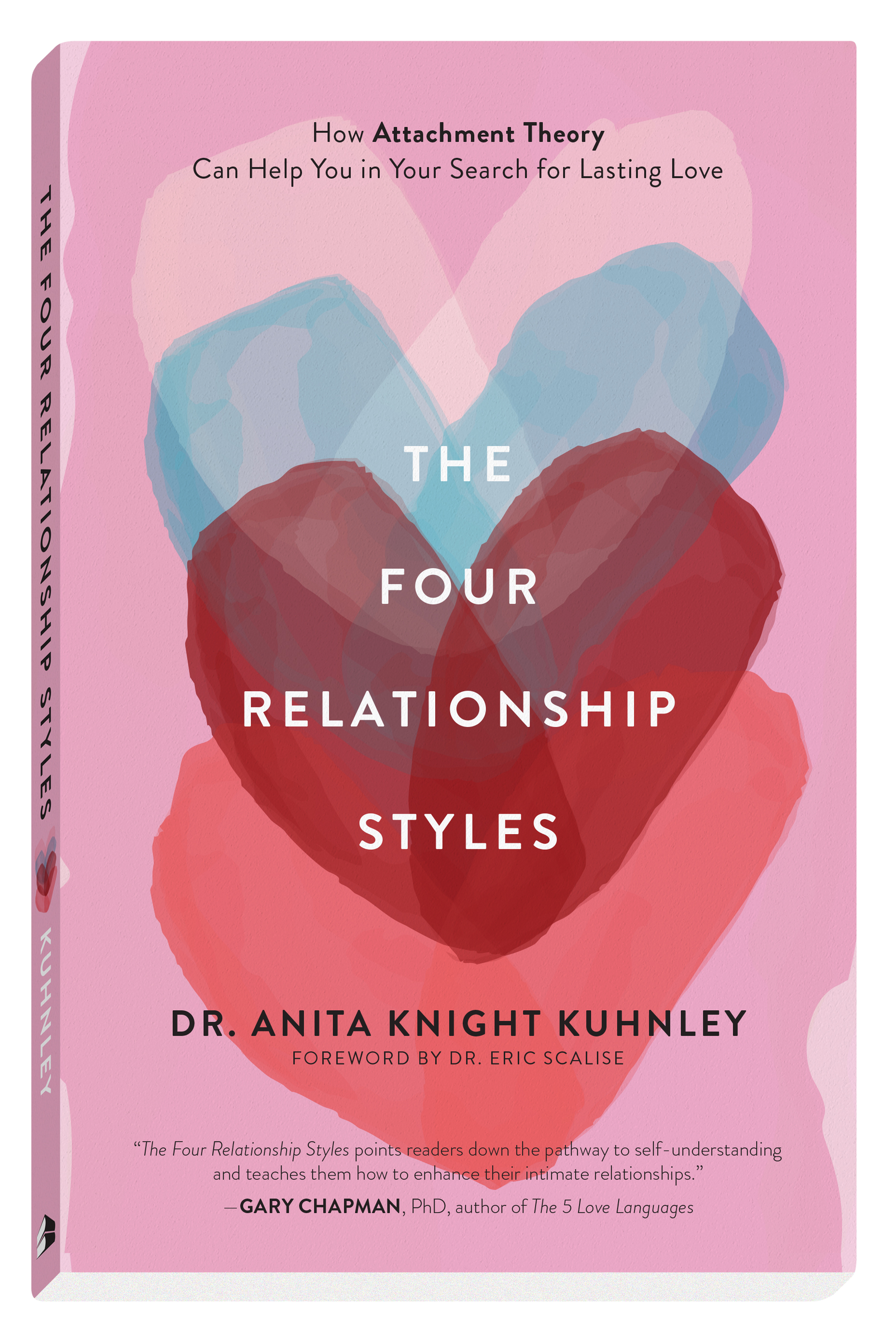 Pre-Order a Signed Copy of The Four Relationship Styles: How Attachment Theory Can Help You in Your Search for Lasting Love
Regular price
$30.00
DESCRIPTION:
Now Available for Pre-Order!
See below for pre-order bonus information.  
Of course we love our partners--but do we love our partners well? According to attachment theory, we tend to experience and show love in predictable ways, some of which might have served us in the past but may now be undermining our relationships. So how do you know if a budding relationship is prone to struggle or success? How can you improve a long-term relationship that is stuck in a season of frustration? The strategies found in this book will help you

· identify your relationship style (and your partner's)
· understand the strengths and challenges of that style
· overcome feelings of rejection and failed relationships
· recognize the patterns and behaviors that are affecting your relationships
· develop better ways to express and receive love
Pre-Order bonuses available now!
Email your 
receipt of purchase & order number
 to receive 3 
bonus
 items in your inbox including: 
The Security Priming Worksheet (perfect to use with clients)
A God Attachment Exercise
AUDIO BOOK DOWNLOAD  (Coming Soon!)
Are you a Firefighter, Investigator, Security Guard, or Networker?
Find out what your relationship style by taking the free mini quiz here; and learn more with the full quiz included in the book, and the chapter dedicated to your relationship style. 

If you've been caught in a cycle of unsatisfying relationships, discover how attachment theory can help you take the guesswork out of understanding why people behave the way they do--especially in times of stress--so you can find and nurture a love that lasts.

You can also find a standard copy of the book via the following links or wherever you buy books: 

---
Endorsements
"The ability to give and receive love is the foundation for building healthy relationships. Some of us find this easy and others find it extremely difficult. In this book, Dr. Anita Knight Kuhnley explains why and points readers toward the pathway to self-understanding and learning how to enhance their ability to build intimate relationships."

Gary Chapman, PhD, author of The 5 Love Languages
"Healthy relationships are critical for happiness, well-being, and even brain health. The Four Relationship Styles gives readers the tools they need to build and maintain secure attachments that enhance their connections with others so they can experience more love in their lives."

Daniel Amen, MD, author of Change Your Brain Every Day
"The Four Relationship Styles should be required reading! We recommend it to all of our clients on their journey to become more self-aware."

Ellen Fein and Sherrie Schneider, dating coaches and bestselling coauthors of The Rules, Not Your Mother's Rules, and The Rules Handbook
"Dr. Anita Knight Kuhnley takes classic attachment theory and masterfully applies it by guiding her readers in how to understand themselves and those with whom they seek to be in relationships. Blending both research and years of clinical application, she demonstrates how the attachment styles can accurately predict both relationship satisfaction and longevity. Techniques for creating secure relationships adapted to each relational style are thoroughly explained, helping the reader achieve deeper and more satisfying relationships. Highly recommended!"

Kenyon Knapp, PhD, LPC, dean of the school of behavioral sciences at Liberty University

Pre-order bonus Alert While Supplies Last!

When you pre-order the book, from Amazon, Barnes and Noble or wherever books are sold you can also get up to four pre-order bonuses while supplies last including the audio book when it releases, a printable feelings wheel, access to an early release downloadable chapter, and another goodie. Please email our team at teamkuhnley@gmail.com with a screen shot of your receipt and order number as well as the text "pre-order bonuses" to get your bonuses!